Our chiropractic doctors provide modern, evidence-based solutions to traditional chiropractic care and sports injury management.
See the difference for yourself by scheduling your first appointment today.
Is Pain Holding You Back?
Our doctors are here to help
Because we combine the leading evidence based techniques in chiropractic, myofascial release, and rehabilitation, we are able to offer a unique and powerful chiropractic experience. We subscribe to a higher standard of chiropractic care that aims at treating both the symptoms and the cause of your injury. Our highest reward is returning our patients to an active, pain free lifestyle without the need for drugs or surgery.
Dr. Kyle Zachgo, DC

Doctor of Chiropractic
Dr. Zachgo has a passion for sports and treating athletes. Growing up playing multiple sports and dealing with injuries is what led him to chiropractic. Focusing on baseball later in his athletic career, he spent countless hours studying biomechanics and injury prevention associated with overhead/throwing athletes. He combines the knowledge of biomechanics and movement patterns of the body to decrease the risk of injury and enhance athletic performance.
Due to his extensive training in a variety of chiropractic techniques, he specializes in treating both spine and extremity injuries. He understands the complexity and different mechanisms of each patient's complaint and uses that knowledge to treat and rehab his patients to maximize recovery and improve overall function. Dr. Kyle has formal training in McKenzie Method, Motion Palpation, Dynamic Neuromuscular Stabilization, Functional Soft Tissue, and Dry Needling.
Dr. Sarah Hunter, DC

Doctor of Chiropractic
Sarah began her passion for health and wellness when studying health sciences at the University of Western Ontario. Afterward, she pursued a career in chiropractic and received her Doctorate at Logan University in St. Louis, MO. Throughout her education, she was involved in Rehab2Performance and Motion Palpation Institute, and focused her studies on exercise science, biomechanics and rehab in order to best treat and understand her patients.
Sarah is an avid runner, and has participated in various of races of all distances, from 5 to 42km (21.1!). She understands both the physical and mental stresses on the body during these events and training cycles. She combines her clinical knowledge, current research, and personal experience to treat patients with a multifaceted approach. This includes performance optimization, injury prevention and treatment. In addition to chiropractic care, Sarah is also well-versed in techniques such as Dry Needling, Active Release Technique (ART), SFMA, Mckenzie Diagnosis and Therapy, and Dynamic Neuromuscular Stabilization (DNS)
Testimonials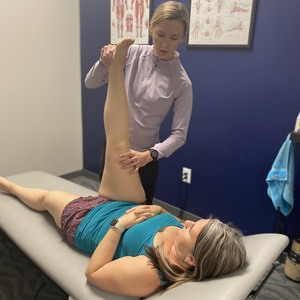 "Denver Sports Docs was a clean, convenient and easy online booking facility. Dr. Sarah Hunter was professional yet very relatable and made me feel my concerns were valid and had a treatment plan. They have the tools on site to start helping pain. I saw her for my foot but she addressed both my feet and calves for an overall wholeness approach. I would highly recommend this for your physiology concerns."
-Shelby
"I've been seeing Dr. Kyle Zachgo for a few weeks now and I couldn't be more pleased with the results. I had been going to The Joint for about 7 years, but never got much relief for my issues. When covid turned the world upside down, I canceled my membership and came to see Dr. Zachgo. I was able to quickly and easily schedule an appointment online for the same day. Dr. Zachgo genuinely cares about his patients and works to provide lasting relief and education to maintain the body's natural mobility."
-Leah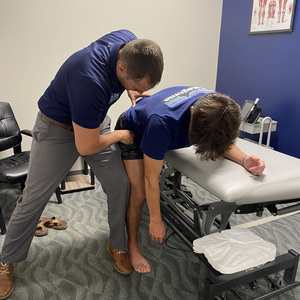 "Dr. Kyle is beyond excellent. He is incredibly knowledgeable and talented. He was quickly able to access what to do to help me and provide several modalities of treatment. He asks questions, listens, then treats all issues with dry needling of trigger points, cupping, scraping and adjusting. I've tried many chiropractors over the years and Dr. Kyle is by far the BEST!!"
-Bonnie
Wondering if chiropractic care is right for you?
Watch this video to learn about how chiropractic care can help you get moving again.
Booking your appointment online is fast and easy.
See our always updated availability by clicking the link below.
Schedule Online